Responsible investment

Responsible investment offering
Responsible investment offering
Amundi offers to all client segments a wide range of open-ended funds and tailor-made Responsible Investment solutions that incorporate ESG factors into investment decisions.
Responsible offering and capabilities
Amundi has developed different responsible solutions with the aim to meet the diverse investors' needs, objectives and drivers related to Responsible Investing:
| | | |
| --- | --- | --- |
| Investment solutions integrating combined ESG criteria | Addressing Environmental or Social challenges: specific initiatives developed by Amundi to accompany investors tackling these issues. | Active strategies, passive investment, bespoke solutions: a wide range of other implementation capabilities. |
Amundi has constantly invested in technical and human resources to develop fine-tuned solutions and raise awareness among our clients and our peers, since the launch of its first Responsible Investment fund in 1989.
Source: Amundi, data as at 31/12/2018. Information given for illustrative purposes only, may be changed without prior notice
ESG certified and labelled funds
There is no one-size-fits-all approach to responsible investing and as a solutions provider, we are committed to developing simple and ready to-use tools to help investors easily implement their ESG strategy depending on their objectives, constraints and the level of ESG focus they wish to implement in their portfolios.
In addition, the expertise of our index team and our proprietary index management tools allow us to develop fully bespoke solutions for our clients aimed at deploying their individual ESG policies.
An expanded range to address investor's various sustainability objectives
Services
To complete our large range of advisory services and investment solutions, we provide our clients with ESG services that can reinforce their commitment to a more sustainable future. To do so, we offer three types of services:
Engagement and voting: At Amundi, we have defined an engagement and voting policy that we apply to our assets under management. We believe our role is to engage with issuers to allow for constant improvement and awareness of ESG-related topics through dialogue or voting at general assemblies.
Reporting: As clients need to monitor their financial and ESG guidelines and report the results of their investments, we offer different types of reporting according to the client's underlying strategy and ESG policy.
ESG Training & Knowledge Transfer: ESG investing is evolving at a fast pace and Amundi is committed to disseminating best practices, research and thought-leadership through content sharing, high level conferences and training programs.
Standard ESG services are included with Responsible Investment portfolio management when relevant.
| | | |
| --- | --- | --- |
| Engagement & Voting | Reporting tailored to client's ESG objectives | ESG Training and Knowledge Transfer |
ESG risk management
Building on the quality and depth of Amundi's ESG database, CPR AM, Amundi's subsidiary dedicated to multifactor and thematic investments, developed innovative solutions implementing a complementary risk-based ESG approach. These solutions seek to enhance value creation potential through the selection of appropriate criteria combinations.
1) Multi-sector approach
This solution based on financial materiality relies both on the ESG rating and a selection of financially relevant E, S & G criteria ("weak signals") in order to define an ESG investment universe allowing for the implementation of an additional financial alpha.

2) ESG Thematic
Those solutions range rely on strong equity thematic investment opportunities backed by megatrends with a demanding sustainable approach. Such approach relies both on a selection of E, S & G criteria adapted to the material challenges of the theme, along with a strict monitoring of controversies and impact.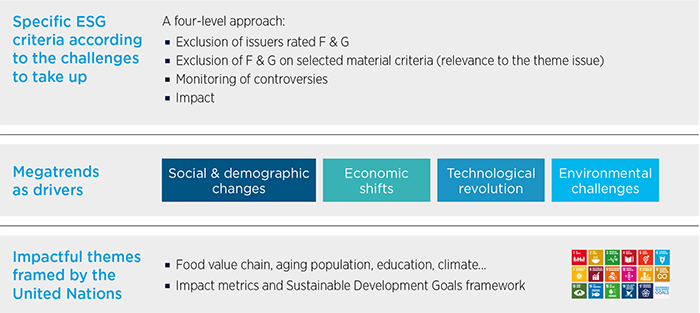 Responsible investing passive solutions
Amundi rated A+ in 2020 for the sixth consecutive year for its responsible investment approach*

Environmental Finance Green Bond fund of the Year in 2020, GRECO**

Environmental Finance Personality of the Year 2021, Isabelle Vic-Philippe

Personality of the Year in 2021, Isabelle Vic-Philippe

Best ESG Investment Fund - Emerging Markets Debt in 2021 for AF emerging Market Green Bonds

Best ESG Investment Fund - Climate / Green Bonds in 2021, for AIIB Climate Bond Portfolio

Best ESG ETF Provider in 2021

Fixed Income Manager of the Year in 2021

Best ESG Strategy Adviser in 2021
This information is exclusively intended for "Professional" investors within the meaning of the MiFID Directive 2004/39/EC of 21 April 2004, and articles 314-4 and following of the General Regulations of the AMF. It is not intended for the general public or for non-professional individual investors within the meaning of all local regulations, or for "US Persons", as defined in the Securities and Exchange Commission's "Regulation S" under the 1933 U.S. Securities Act.
This non-contractual information does not under any circumstances constitute an offer to buy, a solicitation to sell, or advice to invest in financial instruments of Amundi or one of its affiliates ("Amundi").
Investing involves risks. The performance of the strategies is not guaranteed. In addition, past performance is not in any way a guarantee or a reliable indicator of current or future performance. Investors may lose all or part of the capital originally invested.
Potential investors are encouraged to consult a professional adviser in order to determine whether such an investment is suitable for their profile and must not base their investment decisions solely on the information contained in this document.
Amundi assumes no liability, either direct or indirect, resulting from the use of any of the information contained in this document, and shall not under any circumstances be held liable for any decisions taken on the basis of this information. This information may not be copied, reproduced, modified, translated or distributed, without the prior written approval of Amundi, for any third person or entity in any country or jurisdiction which would subject Amundi or any of its products to any registration requirements within these jurisdictions or where this might be considered unlawful.
This information is provided to you based on sources that Amundi considers to be reliable, and it may be modified without prior warning.